Starting your own clothing line is a big move, given the competition. But the secret here is how you position your brand into the market, and you just have to be quick about it. Right now, there's only one way you can massively distribute your products: Retail.
The question is, how can you penetrate retail stores?
4 Basic Steps in Taking Your Clothing Brand to Retail Stores
1. Develop Your Brand Identity
The identity of your clothing brand is developed by knowing who would want to wear your clothes. Who is your target market?
Is your brand unique from other clothing lines? Your customers might like it if they would know that your designs are not like any other brand out there and that they can't get it anywhere else.
One of the most important factors in delivering the best customer experience is by making them feel as if your brand is made exactly for them. Most people want to resonate with the clothes they're wearing. You just need to figure out your brand identity first, so you know how to market them in stores.
2. Make Your Product Ready for Retail
If you want to take your clothing brand to retail stores, you better make it retail-ready. This step includes completing an image of your clothing product that will make "it" scream all the things that represent your brand.
You have you strategically incorporate your trademark logo to the custom packaging. If your packing looks just like anybody else's, that isn't close to being unique.
Let's bet that your customers would really like to be reminded where they got their new trendy top from. And if their friends like that top as much as your customer does, you'll be glad you have that tiny little tag wrapped around the paper bag handle.
Why do you think people love it when they carry paper bags from high-end fashion brands around the mall? It's simply because of the brand.
Imagine if that's your brand.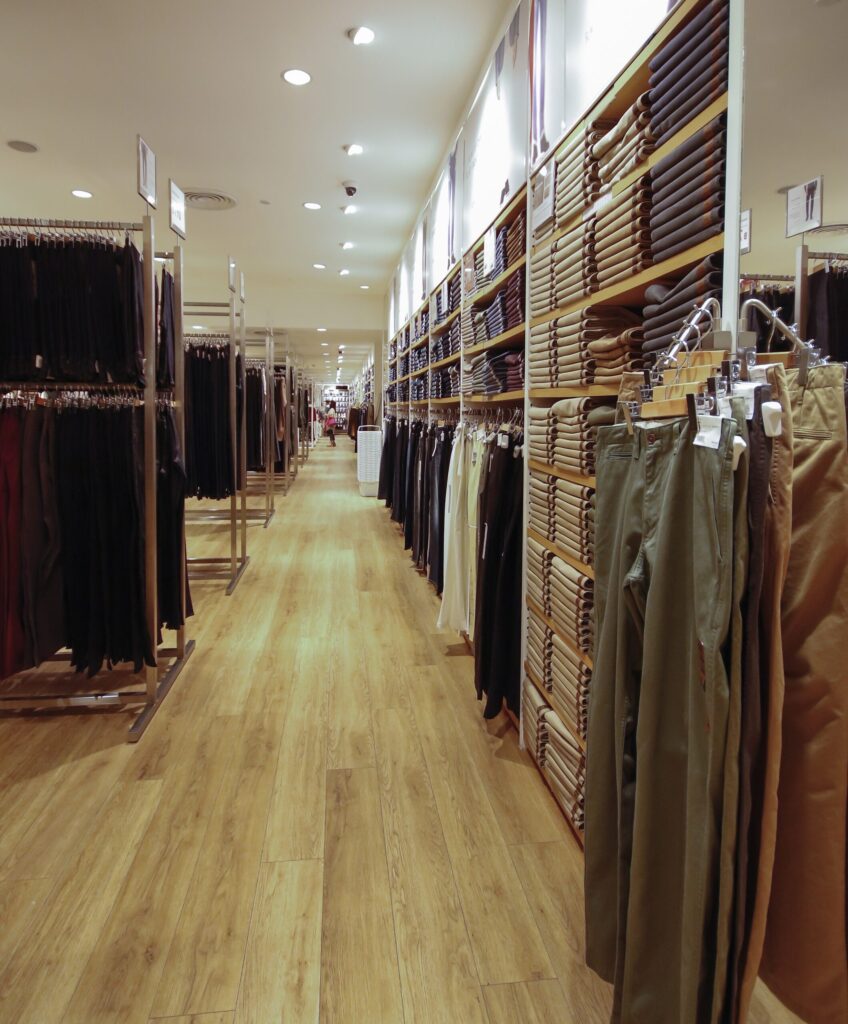 3. Smart Product Pricing

Retail product pricing plays a vital role in marketing your clothing brand to retail stores. So, you have to be smart about it. At the end of the day, it all boils down to profit.
What will the retailers gain if they sell your products in their store?
As the wholesaler, you can provide a suggested retail price (SRP) to the retailers. With this, you shall include the wholesale price of your clothing products, and then they can calculate their percentage markup and how much they can profit from the partnership. The numbers you provide should convince them to take the deal.
4. Establish Reasonable Terms
Draft reasonable terms that should benefit both parties in the long run. Your partnership terms include orders, payments, delivery systems, exchange and returns, and insurance. Make sure you cover everything to avoid future misunderstandings. Should you require renegotiations, both parties must agree and stay transparent on all changes.
In A Nutshell
These four steps are fundamental in figuring out how to take your clothing brand to the next level by selling it in retail stores. However, once you actually get there, more work shall be done. You'll have to strategize your sales plan further and find the right help in launching your product. Expect a few bumps, but with just the right amount of determination, there's no stopping to your success.
If you are interested in getting your products placed at retail, visit Retailbound (www.retailbound.com) or call 630-246-4068 for more information.